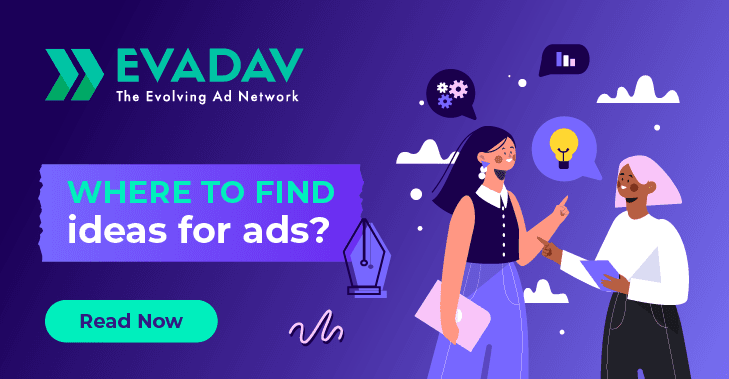 Where to Find Ideas for Ads?
Ads are an important part of any business. They help to spread the word about your product or service and attract new customers.
Affiliate marketing is a great source of ideas for ads since affiliates have access to hundreds of products from different merchants in various industries. They can help provide insight into which products are popular among certain audiences and brainstorm ways to promote them through targeted ads effectively. Affiliates also typically have access to exclusive offers or coupon codes, which can give an added incentive for customers to click through on an advertisement link.
Coming up with ideas for ads can be difficult. The Evadav team made a quick guide of where to find ideas for ads and how to use them effectively. So let's dive in and explore the best ways to find ad ideas!
🎈Research Your Target Audience
The first step in finding ideas for ads is to research your target audience. Knowing who you are targeting will help you come up with ideas that will be effective and relevant to them. You should consider their age, gender, location, interests, and other factors that could influence their reaction to your ad.
Doing thorough research ahead of time will help ensure that any advertisements created are tailored specifically towards the people most likely interested in whatever product or service being advertised–ultimately resulting in higher conversion rates and more successful campaigns overall!
🎈Brainstorm Ideas
Once you have a better understanding of your target audience, it's time to start brainstorming ideas for ads. Think about what kind of message you want to convey and how you can make it stand out from other ads. Consider using humor, visuals, or a unique approach to capture people's attention.
🎈Use Online Resources
Finally, there are many online resources that can help you come up with ideas for ads. You can also find templates and examples of successful ad campaigns that you can use as inspiration for your own campaigns.
🎈Think Outside the Box
When it comes to generating ideas for ads, the key is to think outside the box. Affiliate marketing offers a wealth of opportunities for creative thinking and innovative campaigns that will help you reach your target audience and boost sales.
In order to find successful ideas for ads through affiliate marketing, you must embrace creativity and look beyond traditional methods of advertising. Try exploring different platforms, such as social media or influencer marketing, to get your message out there and engage potential customers. You could also consider using video content alongside text-based ads to create more dynamic campaigns with real impact.
Keep an open mind when coming up with advertising ideas – don't just focus on what has worked in the past; think about how you can use new technologies or trends to make your campaign stand out from the crowd. Consider partnering with other businesses, too – this could potentially increase reach and strengthen relationships within your industry network.
Ad Types Ideas
🔮Use Endorsement
Endorsement is an effective way to get your ads seen by a larger audience and increase conversions. Endorsed content from influencers or well-known brands can help you reach wider audiences, generate more leads, and drive sales.
When it comes to finding endorsements for your ad campaigns, the first step is researching potential endorsers who are relevant to your industry or product. Look for influencers and brands that already have an established presence in the online world, as these will be more likely to have a larger following than those just starting out. Additionally, look for individuals and companies whose values align with yours—this helps ensure that the endorsement is authentic and believable.
Once potential endorsers have been identified, contact them directly via email or social media platforms like Instagram or Twitter. Be sure to include information about your product or service in the message along with details about what you're looking for from them. Offer incentives such as special discounts or free products so they can see the value of helping you promote your business.
Negotiate terms around the cost of services, payment methods, timelines for delivering content, and any other requirements you may have before signing an agreement with them. You should also create guidelines for any content they produce so that it meets all necessary standards and can be used across multiple channels without issue.
Finally, track performance metrics such as clicks on links, website visits resulting from endorsements, sales generated through endorsed campaigns, and customer feedback over time to assess how successful each endorsement has been in reaching key goals and objectives of the ad campaign. With this data at hand, you'll be able to refine future strategies accordingly and maximize returns on investments in promotional activities such as endorsements.
🔮Brainstorm Funny Ideas
Brainstorming funny ideas for ads can be a great way to capture the attention of your audience. Start by coming up with a list of topics that are relevant to your brand and target demographic. Then, focus on creating some witty phrases or puns that could be used in the ad. Try to think of something that is clever but also easy to understand and remember.
Once you have an idea, take time to develop it further. Put yourself in the shoes of your audience and consider how they would react to it. You may even want to run a test campaign with different variations of the same idea so you can see which one resonates most with people.
Another creative approach is using memes or GIFs in your ads, which can help make them more humorous and shareable. Many popular memes are based on current events or trending topics, so it's important to stay up-to-date on social media and news sources if you're looking for inspiration. Additionally, use images that will grab attention without being too offensive or inappropriate – this will help ensure you don't turn off any potential customers who may not get the joke.
Finally, be sure to proofread your ad before launching it out into the world – typos and other errors can really detract from its impact! A good sense of humor is essential when coming up with funny ideas for ads, so don't forget to have fun with it!
🔮Launch Promos
Launching promos is an effective way to create short-term interest in your product or service. Promos can be used to entice customers with discounts, freebies, and exclusive deals. Additionally, they can be used to promote new products or services and increase sales of existing ones.
When planning a promo campaign, start by setting goals for the promotion, such as increased sales or customer loyalty. Once you have established these goals, determine the type of promotion that best suits them and develop a strategy accordingly. Consider the duration of the promo, the target audience, promotional channels like email marketing and social media campaigns, as well as any incentives or rewards.
To ensure success, consider launching promos at strategic times, such as during holidays and peak seasons, when people are more likely to take advantage of offers. Additionally, track performance metrics such as clicks and conversions throughout the campaign so you can adjust tactics if necessary. Lastly, make sure you communicate all terms associated with the promo, including any deadlines or special rules and regulations. This will help avoid any confusion from customers regarding their options when taking part in the promotion.
🔮Use Interactive Advertising: Quizzes and Games
Interactive advertising through quizzes and games is a great way to engage potential customers and capture their attention. Quizzes are an entertaining way to educate customers on products, services, or topics related to your brand. They can be used as a lead-generation tool by asking customers for contact information in exchange for access to the quiz. Games are more suitable for campaigns with an entertainment focus. They can be themed around different aspects of your business and designed to match your branding and messaging. Additionally, they can also be tailored depending on the target demographic.
When creating quizzes or games, it is important to keep them simple yet engaging while avoiding lengthy questions or complex rules that may frustrate users. Make sure the language is easy to understand and that visuals are eye-catching but not overbearing. Also, consider offering rewards or incentives for completing the quiz or game, which could potentially increase conversions. Finally, track performance metrics such as engagement rates and completion times in order to gauge success and make improvements accordingly if needed.
💰Discover your perfect ad ideas and launch your campaigns with Evadav
Read also: Best Affiliate Marketing Podcasts