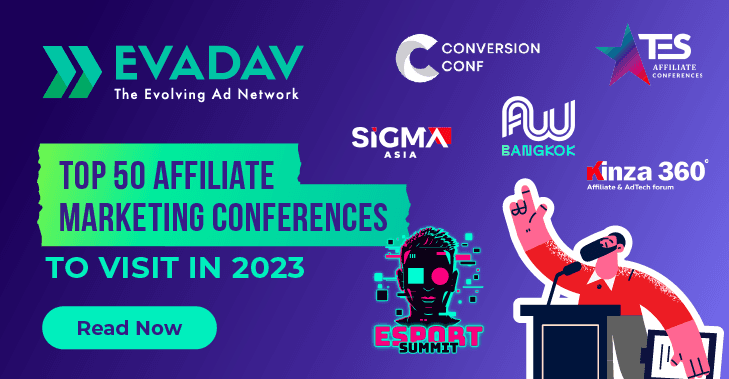 Top 50 Affiliate Marketing Conferences and Events to Visit in 2023: Part 2
And we continue the list of the conferences you can visit this year!
26. iGB Live! 2023
Website: https://www.igblive.com
Dates: 11.07.2023-14.07.2033
Country: Netherlands
City: Amsterdam
Price: TBD
Audience: Gambling + iGaming
iGB Live! is among the largest affiliate marketing events in 2023. While an average summit is two days max, this event will last four days, accepting over five thousand attendees! Such a big conference will indeed have hundreds of exhibitors. So, anyone who gets there will have a chance to meet iGaming and affiliate marketing pioneers offline. iGB Live! is for finding short-term and long-term business connections. Besides, experts will reveal methods of decreasing ad costs and improving the game design.
Thousands of guests are lucky because they stay in the capital of the Netherlands for four days. Their bucket lists can include exploring Amsterdam canals by renting a boat tour. Plus, everyone should visit Van Gogh Museum to see the finest art collection.
27. Affiliate World Europe
Website: https://affiliateworldconferences.com/europe
Dates: 12.07.2023-13.07.2023
Country: Spain
City: Barcelona
Price: €599 Affiliate Sale Price (€1999 Affiliate Full Price), €899 Company Sale Price (€2999 Company Full Price)
Audience: Mix(Adult too)
Another big affiliate marketing meetup will open for five thousand participants in sunny Barcelona. Without a doubt, Affiliate World Europe attracts the best representatives of affiliate marketing and e-commerce worldwide. Within two days, attendees will learn from top players in the field by visiting mind-blowing workshops. Online marketing, SEO, gaming, and many other spheres intertwine here!
Barcelona is worth exploring after busy conference hours. This multinational and colorful city can hardly leave someone indifferent. Thanks to the warm climate, simply walking down the streets is pleasant. Still, the most recommended place to visit is Sagrada Família, an architectural masterpiece by Antonio Gaudí. His other creation is Park Güell, a garden complex with millions of intricate details beyond imagination.
28. Sports Betting East Africa + Summit
Website: https://www.sportsbettingevents.com/sbea
Dates: 13.07.2023-14.07.2023
Country: Uganda
City: Kampala
Price: $295-$795
Audience: Betting
The annual Sports Betting South Africa + Summit will happen for the eighth time in 2023. Every year, this meetup aims to gather those interested in developing the sports betting sector in Africa. Software manufacturers, payment providers, regulators, and other stakeholders will come to the trade show in Kampala to exchange fresh ideas. So, SBEA is perfect for gaining new partnerships and closing profitable deals. Therefore, both local and international representatives regularly visit this conference!
Since Kampala is the capital of Uganda, this city is perfect for discovering the country. One of the prominent landmarks here is Uganda National Mosque. Not only it holds massive cultural and religious value, but it also helps to see Kampala from above. Of course, the city also has numerous national parks where tourists can admire wildlife.
29. TactixX
Website: https://www.tactixx.de/de/
Date: 18.07.2023
Country: Germany
City: Munich
Price: TBD
Audience: Mix
TactixX is one of the largest affiliate marketing trade shows in Europe. In 2023, the organizers expect minimum thousand guests and around one hundred exhibitors. So many people require a lot of space, and the event will unfold in the Alte Kongresshalle. Every year, TactixX gathers the highest concentration of bright minds in trading, publishing, affiliate marketing, etc. That is why the attendees will receive top-quality lectures from morning till night!
Munich is known as the cultural capital of Germany, which underwent massive reconstruction after WWII. Today it is ideal for food tourism due to the famous German beer and Bavarian sausages. Next, Müllersches Volksbad swimming pools can help to relax after a long conference day. And if someone has a couple of free hours, Midnightbazar welcomes tourists for vintage shopping!
30. SIGMA Asia
Website: https://sigma.world/asia/
Dates: 19.07.2023-22.07.2023
Country: Philippines
City: Manila
Price: €89-€349
Audience: Gambling + Betting
The Asian continent has its annual affiliate marketing event called SIGMA Asia. This meetup is dedicated to gambling and betting, connecting experts from fields like lotteries, horse racing, visual sports, and other sectors. The organizers chose and rented the largest expo center in Manila, SMX Convention Centre. Here, entrepreneurs, CEOs, and other leaders will interact and open up about professional secrets. Plus, the main focus of this conference will be innovation and startups.
Manila is a fantastic city that is hard to overestimate. If an attendee wants to relax, they can stroll down Manila Baywalk, with a seascape on one side and palm trees on the other side. Another highly recommended place is the National Museum of Fine Arts, which tells Philippine history through paintings and sculptures.
31. SPiCE Sri Lanka
Website: https://www.sportsbettingevents.com/spice-sri-lanka
Dates: 26.07.2023-28.07.2023
Country: Sri Lanka
City: Colombo
Price: $375-$795
Audience: Gambling + Betting
Sri Lanka has its affiliate marketing conference as well, thanks to Eventus International. The SPiCE Sri Lanka conference focuses on financial opportunities in the local iGaming and gambling market. The guests will interact and discuss the news in sports betting, online gambling, and casino sectors. Additionally, a strong focus will be on potential regulatory changes and investment potential. Luckily, plenty of legislators and operators will explain everything in detail!
Colombo is known as the biggest city and the unofficial capital of Sri Lanka. Although Colombo is a commercial city, it still has several worthy attractions. First, guides recommend visiting the Colombo National Museum to get acquainted with the history of the locals. Because the nation was under British rule for so long, the museum is meaningful to them, and so is Independence Square.
32. Affiliate Summit East
Website: https://www.affiliatesummit.com/east
Dates: 31.07.2023-01.08.2023
Country: USA
City: New York
Price: $699-$999
Audience: Mix
In 2023, there will be one more affiliate marketing meetup in New York. Affiliate Summit East will be dedicated to ambition and innovation, gathering over three thousand enthusiastic guests. The organizers plan to squeeze more than sixty sessions in two days so that everybody gets much-needed professional advice.
Affiliate Summit East helps entrepreneurs survive in a highly competitive environment where standing out is crucial for success. So, the numerous lectures will explain the peculiarities of every niche.
Besides the conference, New York is a fantastic tourist destination itself. For instance, the enormous Empire State Building is perfect for seeing the Big Apple from above. Another worthy place is Times Square, a busy hive with electronic billboards everywhere. And Broadway theaters are also waiting for viewers!
33. iGaming Crossroads Summit
Website: https://www.eventus-international.com/ics
Dates: 01.08.2023-02.08.2023
Country: Georgia
City: Tbilisi
Price: €795-€1495
Audience: iGaming
Eventus International will hold another affiliate marketing event in 2023, this time in Tbilisi, Georgia. Its iGaming Crossroads Summit will connect European and Asian regions, hence the name. Georgia belongs to the newly emerging, dynamic markets that have great potential for iGaming development. Specialists like iGaming operators, affiliates, and government officials understand the situation and want to discuss opportunities in the local iGaming market. The main subjects at iCS2023 will be new technologies, regulatory issues, and responsible gaming.
Tbilisi is indeed a unique place, a buffer between West and East. Generally, the capital of Georgia is famous for its warm climate, food, wine, and local hospitality. A tourist's bucket list should include Sulfur baths for relaxation. On top of that, a must-see place is the ancient Narikala Fortress, with a cable car ride.
34. DealMaker Australia
Website: https://rakutenadvertising.com/en-au/events/
Date: 10.08.2023
Country: Australia
City: Sydney
Price: TBD
Audience: Mix
In August 2023, another DealMaker conference will gather hundreds of devoted affiliate marketing enthusiasts. This year, the event will be in Sydney, where advertisers and publishers will exchange the latest news and innovative ideas. Because the primary DealMaker principle is that business relations shouldn't feel like work, the event atmosphere should be relaxing. So, apart from beneficial lectures and workshops, there will be enough time to party and enjoy conversations with peers!
When people think of Sydney, the first thing that comes to mind is the Sydney Opera House. It is worth visiting, with numerous dancing, singing, and theater performances. Next, everyone has to see the Royal National Park, where the untouched Australian nature strikes with its variety. And for sporty people, Bondi beach offers surfing lessons for beginners.
35. Sports Betting West Africa
Website: https://www.sportsbettingevents.com/sbwa
Dates: 23.08.2023-25.08.2023
Country: Nigeria
City: Lagos
Price: $395-$995
Audience: Betting
West African countries are slowly becoming a part of the global betting market. Sports Betting West Africa gathers local and international guests annually. And this year, it will attract stakeholders, affiliates, entrepreneurs, and regulators again. At Federal Palace Hotel and Casino, the mentioned participants will discuss the local gaming ecosystem and the best strategies for maximizing profits.
Despite being a less-known tourist attraction, Lagos captivates its visitors with its exuberant energy. Since it is neighboring the Atlantic Ocean, Lagos has beaches where tourists can relax after busy days. Granted that someone wants something for cultural development, the Nike Art Gallery contains five floors of African art pieces.
36. Affiliate Grand Slam Europe
Website: https://affiliategrandslam.com/cis/
Dates: 04.09.2023-07.09.2023
Country: Cyprus
City: Limassol
Price: starting from €259
Audience: Mix + iGaming + Gambling + Adult
The legendary Affiliate Grand Slam Europe opens its doors in Cyprus this year. Thanks to the giant AGS venue, all three thousand visitors will have more than enough space to network, visit booths and have fun! This event is especially advantageous for SEO specialists, content marketers, affiliates, and influencers. Their main goal is to make the economy of tomorrow through group work. The schedule contains cultural tours, presentations, and parties, making AGC Europe the entertainment powerhouse!
The guests have many activity options on Limassol. First, Molos promenade is ideal for long coastal walks. Plus, Fasouri Watermania Waterpark provides extreme slides and relaxing massages. And if someone admires history, Limassol Castle is open for tourists too!
37. ClickBid Ibiza Conference 2023
Website: https://www.clickbidworld.com/pages/clickbid-ibiza-2023
Dates: 05.09.2023-07.09.2023
Country: Spain
City: Ibiza
Price: €2250
Audience: Mix
ClickBid Conference is a marketing event that stands out from other similar meetups. The ClickBid Ibiza Conference 2023 can accept five hundred guests maximum, but all of them will have the VIP experience. The affiliate marketing industry leaders and other prominent individuals will combine networking and partying in Ushuaïa Ibiza! So, the guests will close business deals in non-traditional locations. There also will be boat riding, luxury brunches for networking, dinners, and even private transportation.
However, Ibiza is more than just an area for sunbathing and clubbing. It has a long history. For instance, the Ibiza Old Town has cozy cobblestone streets with ancient buildings, like Ibiza Cathedral. Besides, the Pirate Towers that protected the island since Medieval times are also worth seeing.
38. The European Summit
Website: https://tesaffiliateconferences.com
Dates: 18.09.2023-21.09.2023
Country: Czech Republic
City: Prague
Price: €399
Audience: Adult + Dating + Cams
One more annual affiliate marketing conference will take place in Prague this September. The European Summit hosts expect a minimum of several hundred delegates from all over the world!
The guest list includes affiliate marketing professionals, software developers, banking and finance specialists, and entrepreneurs. All the booths will be in Diamond, Platinum, Gold, and Silver lounges. So, the participants will enjoy speaking sessions and find investors or clients in an informal format.
And even if the guests have little time, Prague has something to offer even for busy people. The City of Hundred Spires welcomes everyone to the Old Town Square with a local market, street performance, and foods like trdelnyk. On top of that, tourists can admire UNESCO World Heritage objects like Prague Castle, for instance.
39. SBC Summit Barcelona
Website: https://sbcevents.com/sbc-summit-barcelona/
Dates: 19.09.2023-21.09.2023
Country: Spain
City: Barcelona
Price: €400-€600
Audience: iGaming + Betting
Another place where iGaming and betting worldwide leaders will gather this year is Fira Barcelona Montjuïc. The event will be massive, with over ten thousand people attending the SBC Summit. The organizers divided the venue into five zones. This way, affiliates, emerging tech, media, blockchain, metaverse, betting, and payments will have separate spaces. Besides attending booths, the guests can listen to CEOs and officials who will act as speakers. They will break down even the trickiest topics!
Barcelona has a reputation as a loud, dynamic, and bright city. It also has a rich culture, which tourists can admire in the Picasso Museum. After seeing the themed exhibitions, the visitors can stroll down the medieval streets of the Gothic Quarter, which feel ancient.
40. DMEXCO
Website: https://dmexco.com
Dates: 20.09.2023-21.09.2023
Country: Germany
City: Cologne
Price: TBD
Audience: Mix
During two September days in Cologne, people will have a chance to visit the Digital Marketing & Tech Event (DMEXCO). Although there is an option to join the meetup online, many attendees will prefer to see everything in person at Cologne Exhibition Center. Its popularity is hardly surprising since it inspires many to elevate their businesses, find new contacts, and sign contracts.
Indeed, networking will be smooth here with the long list of guests representing affiliate marketing, digital business, and other fields. The disputes and masterclasses promise to be engaging!
DMEXCO allows participants to get acquainted with the ancient city of Cologne. Its must-see area is the Old Town, a colorful historical center where all tours begin. Plus, everyone should visit the gothic Cologne Cathedral, which pierces the sky and shines with gold decorations.
41. AWSummit Ibiza
Website: https://www.awsummit.com/events/ibiza/main/
Dates: 21.09.2023-24.09.2023
Country: Spain
City: Ibiza
Price: €399
Audience: Mix
If anyone wants to attend an exclusive and glamorous event, AWSummit Ibiza is the right place to be. For nine consecutive years, this meetup has been gathering the best of the best from many industries. This time is no exception, as leading companies' representatives, affiliates, influencers, models, and SEO experts will come together to interact.
Luckily, the extravagant Gran Hotel in the Centre of Ibiza has enough space for everyone. Purchasing a ticket here means attending presentations, giveaways, parties, and Expo Village, where business intertwines with fun!
Despite being famous for its modern clubs, Ibiza Island has a long history and cultural heritage. An interesting site is the medieval Ibiza Castle which people built for thousand of years. The other unique places are Can March Caves and Ses Salines Natural Park.
42. Esport Summit
Website: https://esportsummit.cz/en/
Dates: 27.09.2023
Country: Czech Republic
City: Prague
Price: €79-€129
Audience: Esport + iGaming
Those keen on esports and iGaming wait for the biggest Esport Summit in Prague this September! Despite lasting only one day, the meetup will be full of events. More than sixty speakers will educate over ten thousand viewers about everything connected to esports and iGaming.
For convenience, the summit will have two zones, 'Business' and 'Inspiration.' In the first area, people will learn about startups, blockchain, and the future of iGaming. Meanwhile, the second zone is for presentations about game consoles, gaming education, and players' health.
If someone got to the mentioned meetup, they might as well have unique experiences in Prague. As an illustration, many tourists fancy the haunted Faust House. For the fans of physical activity, there is Petrin Hill, which has a spectacular view.
43. India Affiliate Summit
Website: https://www.indiaaffiliatesummit.in
Dates: 11.10.2023-12.10.2023
Country: India
City: Gurgaon
Price: TBD
Audience: Mix
Since 2015, India Affiliate Summit has been the most known performance marketing event here. Every year this event helps to push businesses forward by gathering the most significant personalities in one venue. Naturally, there are multiple reasons to attend IAS2023. First, it gives a chance to study the unknown territories of the Indian affiliate market.
Secondly, the attendees will meet bloggers and affiliates to exchange business cards with them. Finally, entrepreneurs can bring attention to their products and services like nowhere else!
After the masterclasses and presentations, Gurgaon will invite the participants to explore its attractions. Most people know this city as the tech and financial hub, with skyscrapers and concrete jungles. However, there are some hidden gems like Sultanpur Bird Sanctuary, a green oasis. Another highly recommended place is the Kingdom of Dreams, an Indian cultural center.
44. DigiMarCon Middle East 2023
Website: https://digimarconmiddleeast.com
Dates: 11.10.2023-12.10.2023
Country: UAE
City: Dubai
Price: $697 Main Conference Pass, $1197 All Access Pass, $1397 VIP Pass
Audience: Mix
If someone wants to attend an affiliate marketing event and have a five-star experience, there is an option! In 2023, DigiMarCon Middle East invites everyone to Dubai for the two-day summit. As usual, the visitors will discuss various topics, from programmatic advertising to geo-targeting and influencer marketing.
DigiMarCon will happen at a lavish venue, Hyatt Regency Dubai Hotel. Surprisingly for many, this grand building will have a podcast studio, auditorium, photo booth, and even library access for its guests.
Although the hotel has numerous entertainments, going out will bring even more emotions. The most significant Dubai landmark probably is Burj Khalifa, the tallest building in the world. Another wonder is Palm Jumeirah, an artificial island. For the lovers of extreme, there are Dubai desert safari rides!
45. 2nd Annual Game Greece
Website: https://www.eventus-international.com/game
Dates: 19.10.2023-20.10.2023
Country: Greece
City: Athens
Price: €395 Affiliate Pass, €595 Delegate Pass, €995 Suppliers Pass
Audience: Gambling + Betting
If anyone is keen on the Greek gambling and betting market, the 2nd Annual Game Greece conference will be a great event! Moreover, the event will focus on the gambling industry in neighboring countries. To gain beneficial information and exchange contacts, real celebrities of affiliate marketing and other spheres will come to Athens.
Through panel discussions and presentations, officials, regulators, affiliates, and operators will answer topical questions. This kind of communication will help to evaluate local investment opportunities.
All the lucky conference attendees will be in awe of the choice of landmarks in Athens, the most famous archaeological site worldwide. Its central landmark is Acropolis, with the Parthenon, the Temple of Olympian Zeus, and the Panathenaic Stadium.
46. PI Live London
Website: https://performancein.live
Dates: 24.10.2023-25.10.2023
Country: UK
City: London
Price: TBD
Audience: Mix
The huge Affiliate & Performance Marketing Conference will unfold in October 2023. Usually, PI Live takes place in big cities several times a year. So, this time the organizers have chosen a venue in London. During two days, the representatives of leading companies and affiliate networks will brainstorm the answers to IT-related questions, marketing, and web analytics. Furthermore, the motto of this event is 'Build Profitable Partnerships,' which reflects another goal of PI Live, namely business connections.
After discussing tech and finance, the attendees may discover the city. Luckily, London manages to satisfy even experienced travelers. An example of a place to visit is Madame Tussaud's London wax figures museum. Besides, a good idea is a stroll in the enormous Hyde Park, one of the few green spaces in London.
47. Affiliate Meet Markt
Website: https://www.affiliatemeetmarkt.com
Dates: 31.10.2023-01.11.2023
Country: Germany
City: Berlin
Price: Free for Affiliates, $899 Networking Pass
Audience: Mix
Affiliate Meet Markt will occupy the center of Berlin for two days and bring together two thousand specialists in multiple fields. So, whether someone represents iGaming, Nutra, dating, finances, health, or even the NFT industry, they are welcome at Arena Berlin!
The main requirement for participants is to be ready for a fast-paced environment. And, thanks to leading personas willing to share expertise, newbies will know how to survive in these highly competitive niches.
The capital of Germany is a tech, financial, and cultural hub with a baggage of history. Probably everyone has heard of the Berlin Wall, which divided the nation into two parts. Now, this is the memorial and art object covered in graffiti. One more landmark commemorating the country reunion is Molecule Man, a newer sculpture of two hugging people.
48. DMIEXPO
Website: https://www.dmiexpo.com
Dates: 05.11.2023-06.11.2023
Country: Israel
City: Tel-Aviv
Price: TBD
Audience: Mix
Israel has its annual affiliate marketing event called DMIEXPO. Its hosts claim the conference is one of the fastest-growing among similar meetups. And their words sound true because DMIEXPO will collect almost three thousand affiliates and digital marketers, several hundred companies, and a hundred speakers.
Despite such high attendance, the summit will be highly organized, with separate exhibitions, meetings, and dining areas. The luxurious Crown Plaza venue has enough space!
Since the attendees will arrive from worldwide, they might study Tel Aviv beyond the conference rooms. This youthful city on the Mediterranean coast boasts numerous sunny beaches. One of the areas, the White City, consists of white 20th-century buildings. And Jaffa, the Old Town, looks the same as hundreds of years ago.
49. Affiliate Grand Slam Europe + SIGMA Europe 2023
Website: https://sigma.world/europe/
Dates: 13.11.2023-17.11.2023
Country: Malta
City: Attard
Price: €450
Audience: Mix + Gambling + iGaming
Malta Island is another meetup spot for those working in affiliate marketing, gambling, or iGaming sectors. Here, at the Malta Fairs and Convention Centre, will be heated discussions about emerging European market trends and the future of iGaming in the whole European region, not just Malta.
Generally, SIGMA hosts believe it is possible to turn face-to-face communication into art. So, operators, affiliates, regulators, and suppliers will attempt networking at the convention in November.
Even though Malta is tiny, the country has many archaeological sites and modern attractions. An example of a landmark here is Mnajdra, an ancient megalithic complex. Plus, the Malta National Museum of Archaeology exhibits numerous artifacts from different periods, demonstrating the rich history of Malta.
50. Affiliate World Asia
Website: https://affiliateworldconferences.com/asia
Dates: 07.12.2023-08.12.2023
Country: Thailand
City: Bangkok
Price: $564 Affiliate (will be $1999), $834 Company (will be $2999)
Audience: Mix (Adult too)
In the Asian Region, one of the most known affiliate marketing meetups is Affiliate World Asia. Both affiliate marketers and e-commerce experts count the days till this offline convention. Their excitement is understandable because Affiliate World Asia is perfect for matchmaking investors and companies.
Out of five thousand attendees, everyone will find a desirable business partner or borrow practical ideas. Another advantage is the event organization, according to which every conference day ends with informal rooftop hangouts.
Bangkok is the Capital of Thailand, its cultural and trading center. It associates with a mix of ancient architecture and dynamic nightlife. If someone wants to take a break from clubbing and shopping, they should visit the Grand Palace, the Royal residence. It has a maximalist exterior and interior, just like Wat Pho, a Buddhist temple complex.
Here you can read the first part of the article.
Read Also: Important update for Evadav's publishers: improving payout functionality