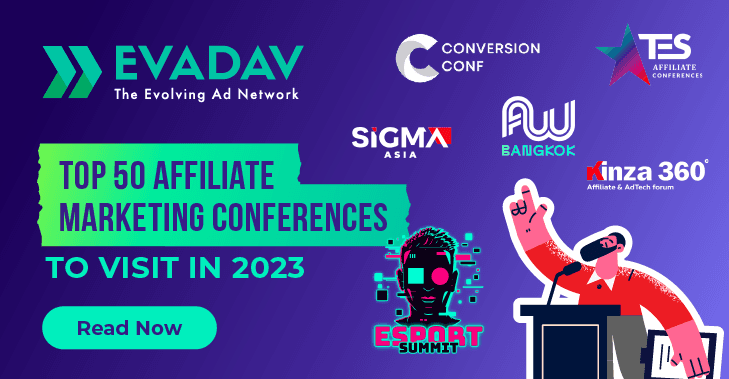 Top 50 Affiliate Marketing Conferences and Events to Visit in 2023: Part 1
Every year, affiliate marketing conferences gather enthusiastic audiences worldwide. No wonder many people look forward to such occasions. These numerous events become a perfect opportunity for marketers and other participants to network and share their experiences. We have formed a list of the fifty most promising affiliate marketing conventions. Get acquainted with them all to pay a visit!
1. Prague Gaming & Tech Summit
Website: https://hipther.com/events/prague/
Dates: 29.03.2023-30.03.2023
Country: Czech Republic
City: Prague
Price: €349 Delegate Pass, €629 Combo Pass
Audience: Mix - iGaming - Gambling
The Prague Gaming & Tech Summit has connected top executives and officials since 2017. This spring should be the seventh time industry stakeholders connect to exchange new ideas. More specifically, over sixteen confirmed speakers will cover topics related to iGaming, virtual reality, Esports, blockchain, and many more.
In general, the city of Prague is worth visiting too. Once a person enters this place, they instantly travel to Medieval times. Walking down the streets leads the tourists to the Prague Astronomical Clock with beautifully carved biblical figures. The next stop is St. Vitus Cathedral. Rumors are that people needed seven hundred years to finish this building. Another landmark on the bucket list is the Charles Bridge, a pearl of gothic architecture, perfect for strolls.
2. Big Africa Summit
Website: https://www.bigafricasummit.com
Dates: 30.03.2023-31.03.2023
Country: South African Republic
City: Johannesburg
Price: $795 International Delegate Pass, $595 Africa Delegate Pass, $395 Local Delegate Pass
Audience: Mix + Gambling
The 9th Annual Betting and iGaming conference aims to gather people for remote gambling discussions. In detail, more than fifty speakers will focus on the legalization of remote gambling in South Africa and the prospects of the local gaming market. Here progressive affiliates, business owners, and authority figures may build valuable connections and strengthen their positions.
Johannesburg itself is quite an entertaining attraction. And most importantly, it caters to any taste. For instance, visitors who enjoy nature can visit the Apartheid Museum. This place is perfect for walks with its endless lakes and natural paths. Besides, the city demonstrates its futuristic side in the Carlton Centre, a fifty-floor shopping mall. The skyscraper allows everyone to admire the magnificent view and satisfy their shopping cravings.
3. PI Live Miami
Website: https://performancein.live/miami/
Dates: 02.04.2023-04.04.2023
Country: USA
City: Miami
Price: Retailers go free, $495+ Standard, $995+ VIP
Audience: Mix
An affiliate marketing conference is inviting guests to Hyatt Regency in Miami. This event gained popularity last year in New York and continues to attract visitors with its busy and engaging program. The attendants will meet affiliates, bold publishers and creators, e-commerce brands, and other exhibitors. Besides listening to over fifty speakers, the guests can network and have fun at an exclusive party.
Miami Beach Island is the most famous attraction in Miami, with beaches and high-end bars. Also, the Art Deco historic district mesmerizes people with its beauty. Finally, those who like physical activity can climb to the top of Cape Florida Lighthouse. Regardless of the place, the ocean's proximity creates an unforgettable atmosphere.
4. Affiliate Huddle
Website: https://brightonseo.com/event/affiliate-huddle/
Date: 19.04.2023
Country: UK
City: Brighton
Price: Free for advertisers, free for affiliates, £240 for affiliate network & SaaS providers
Audience: Mix
If someone is looking for a free affiliate marketing event, there is a great option! BrightonSEO hosts an annual conference in collaboration with TopCashBack. Although this event lasts only one day, it is valuable for those interested in affiliate and performance marketing. Advertisers and affiliates have free passes to Affiliate Huddle, and guests can bring four people for free too. This place is perfect for holding big debates or small coffee chats with new acquaintances.
Brighton is a lovely coastal city with numerous landmarks like churches, parks, and palaces. Its brightest gem is the Royal Pavillion, existing since the Regency Era. Finally, another must-see place is the artificial Brighton Marina, which hooks tourists with picturesque sea views and fresh breeze.
5. Conversion Conf
Website: https://www.conversion-conf.com
Dates: 19.04.2023-20.04.2023
Country: Poland
City: Warsaw
Price: $219
Audience: Mix
An awaited two-day affiliate marketing event in Warsaw is another opportunity to develop as a professional. Participating in Conversion Conf means discussing various subjects, including affiliate marketing, e-commerce, finance, etc. Although only twenty speakers get to attend the conference, the meetup will have numerous ways of spending time. Over 1500 participants who registered are expecting both the educational part and the after-party for meeting new people!
Moreover, Warsaw has a ton of lovely places. To begin with, it has the city part called the Old Town. Even though it was all ruins after WWII, Poles meticulously rebuilt it. Besides, the fans of modern attractions can fancy Copernicus Science Centre. It opened in 2010 and began popularizing science through multiple interactive projects. For art lovers, Warsaw has King's Castle, now a stunning art gallery.
6. DigiMarCon New York
Website: https://digimarconnewyork.com
Dates: 27.04.2023-28.04.2023
Country: USA
City: New York
Price: $597 Main Conference Pass, $997 All Access Pass, $1197 VIP Pass
Audience: Mix
This year, the Premier Digital Marketing, Media, and Advertising Conference & Exhibition, shortly called DigiMarCon, gathers professionals worldwide for the sixth time. This event has always been popular and will unfold at New York Marriott Brooklyn Bridge Hotel. However, the organizers ensured guests could enjoy the event online and offline. This meetup will gather experts from various fields, including affiliates, entrepreneurs, social media marketing specialists, etc.
Indeed, New York is a huge attraction itself. The most known landmark here is the Statue of Liberty, with its viewing gallery on top. Secondly, Rockefeller Center awaits people who want live shows, shops, restaurants, and bars in one place. But, for those who want a quieter place, Central Park works as an oasis in the middle of Manhattan.
7. Deal Maker USA
Website: https://dealmaker.rakutenadvertising.com/DMUSA23
Dates: 01.05.2023-03.05.2023
Country: USA
City: La Quinta
Price: $1000
Audience: Mix
Another great meetup is going to take place in sunny California this spring. Visiting Deal Maker USA will be possible at La Quinta Resort during the first days of May. As organizers promise, the attendee count is a thousand people, among them the best publishers, advertisers, and other marketing industry leaders. The hosts expect approximately four thousand meetings to happen. There will be music, food, a pool, and other entertainment for the exciting atmosphere!
Once guests leave the resort, La Quinta greets them with its tourist attractions. One is Old Town La Quinta, perfect for nightlife activities and luxury shopping. In the daytime, PGA WEST Pete Dye Mountain Course welcomes golf players and mountain hiking lovers. Here, the majestic views of untouched nature help to take a break from busy city life.
8. AW Summit
Website: https://www.awsummit.com/events/bucharest/main/
Dates: 07.05.2023-09.05.2023
Country: Romania
City: Bucharest
Price: €299 Regular, €599 Executive
Audience: Dating Adult, Cams Nutra
The biggest European meetup for specialists in affiliate marketing, SMM, gaming, crypto, education, and other fields is waiting for attendees in Bucharest! All categories of participants will have their designated areas for exhibits. This event allows people to form new connections and strengthen existing business relations through offline communication. Affiliate marketers can find new companies and products for collaboration, while content creators will grow their following base.
Bucharest boasts a unique combination of Neoclassicist and Stalinist architecture. The city is also known for its enormous Palace of Parliament, containing over one thousand luxurious rooms with frescoes and mosaics. Besides, the visit to Bucharest is complete only after walking down Macca-Vilacrosse Passage, the main artery full of numerous restaurants and terraces.
9. MAU Vegas
Website: https://mauvegas.com
Dates: 23.05.2023-25.05.2023
Country: USA
City: Las Vegas
Price: $1395-$1895
Audience: Mix
MAU Vegas is another event for performance and affiliate marketing specialists. Although the Mobile Apps Unlocked conference focuses on the mobile applications market, affiliates will spend quality time here too. So, there will be time for networking and breakout sessions, innovative learning, education, and meaningful communication. The event will unfold in MGM Grand Las Vegas, one of the local casino hotels with luxury apartments and numerous entertainments.
Everybody knows Las Vegas as the global casino center, a neon wonder in the Mohave Desert. And it's true because its most known attraction is the Strip street full of casinos and hotels with unique designs. Many tourists use the High Roller Las Vegas Strip Observation Wheel to admire all this beauty from above. Some even take helicopter rides to see Las Vegas and the Grand Canyon!
10. Affiliados Brazil
Website: https://afiliadosbrasil.com.br/en/
Dates: 25.05.2023-27.05.2023
Country: Brazil
City: San Paulo
Price: $109
Audience: Mix
Latin America keeps up with the global trends and holds affiliate marketing events too. The first and largest affiliate marketing conference here is Affiliados Brazil in San Paulo. This spring, over forty confirmed exhibitors take part in the three-day meetup. Frei Caneca Convention Center invites bloggers, advertisers, entrepreneurs, and agencies to share new ideas. Both beginners and experienced speakers are welcome here! The goal is to share ways of boosting sales and business efficiency.
San Paulo is a large, rich, and busy city. One of its most recommended landmarks is St. Paul's Cathedral, the fourth-largest Gothic building in the world. It catches an eye with intricate stained glass and pleases ears with its pipe organ. Among its modern attractions, tourists fancy Batman's alley, a street with graffiti-covered walls, perfect for bright pictures.
11. Kinza360
Website: https://almaty.kinza360.com/en/home/
Date: 31.05.2023
Country: Kazakhstan
City: Almaty
Price: $20 Charity, $20 Basic, $400 Business, $800 VIP
Audience: Mix
This May, a cross-continental multifunctional forum opens its doors for visitors in Almaty. The meetup is famous in Central Asia and worldwide since more than two thousand participants have registered. Affiliate marketing specialists, AdTech representatives, and specialists in FinTech, Info business, and other spheres will network and discuss unique cases. Everyone who thinks outside the box is welcome! The pavilion is spacious, with a separate VIP zone. The place also has multiple cinemas, restaurants, and hotels.
The event visitors are lucky because they get to see beautiful Almaty. This largest Kazakhstan megapolis combines urban and traditional elements. One of the entertainment destinations is Kodak-Tobe in the mountains. This area is for dining and having fun while enjoying the panoramas. To know the local culture better, tourists visit the Central Mosque, a sacred place for every Muslim.
12. iGaming Germany
Website: https://www.eventus-international.com/igg?utm_source=online.marketing
Dates: 06.06.2023-07.06.2023
Country: Germany
City: Munich
Price: €395 Affiliate, €795 Company, €1495 Company + Ads
Audience: iGaming
One of the beloved European iGaming summits will open in Munich in early summer. The iGaming Germany conference exists for several reasons. First, it aims to give new iGaming professionals new exciting chances. Secondly, it allows industry leaders to lead the discussions and share expertise with others. The organizers believe that knowledge is crucial for succeeding, so this year minimum of twenty speakers will open up about their insightful experiences.
Besides participating in the iGaming event, visitors can enjoy Munich and its attractions. Even if someone stays here for a weekend, there is always time to visit the famous Marienplatz, the main square. Also, remember to look at City Gates, which protected Munich from invaders in Medieval times. Finally, attendees can see Frauenkirche, the church towering over the city.
13. DealMaker Europe
Website: https://dealmaker.rakutenadvertising.com/Europe2023
Date: 09.06.2023
Country: UK
City: London
Price: £570
Audience: Mix
Like many other meetups, DealMaker Europe had to be in online mode for the past couple of years. However, in 2023 it will come back offline in London. This time London, Munich, and Paris DealMaker events should make one excellent combination. The venue will gather hundreds of people, including marketers and industry leaders.
After several informative lectures and discussions, there will be the European Golden Link Awards. Everybody will know the best industry representatives, and celebrate their success at the after party.
London is on the bucket list of every enthusiastic traveler. No wonder, since this capital has numerous famous attractions. For instance, the London Eye Ferris wheel allows one to see the city from above. Then, the must-see place is Buckingham Palace, a royal residence. And don't forget to take a photo near Big Ben!
14. Webmasteraccess
Website: https://webmasteraccess.com
Dates: 09.06.2023-11.06.2023
Country: Cyprus
City: Limassol
Price: €299 Standard, €999 VIP
Audience: Mix/Adult - yes
While most affiliate marketing conferences are relatively new, Webmasteraccess has existed since 2003 and is still popular among executives and digital experts. This year the event invites guests to the Hotel Grand Resort Limassol. Although the place is spacey enough, there will be virtual booths and video meetings apart from the offline ones.
Every participant will easily find potential partners with similar interests and goals using AI matchmaking. Prepare for a busy schedule with workshops, photoshoots, masterclasses, and beach parties!
Limassol is overall a comfortable city for tourists. Clean local beaches are perfect for relaxation after numerous business meetings. Besides, there are ancient ruins everywhere in walking vicinity. For instance, the sanctuary of Apollo contains mosaics and several columns. So, dive into the culture and history of Cyprus!
15. iPX23
Website: https://events.impact.com/ipx23
Dates: 13.06.2023-14.06.2023
Country: USA
City: New York
Price: $199
Audience: Mix
This year, another promising event takes place in New York. Impact.com Partnerships Experience is a superb opportunity for attendees to discover more business-expanding strategies. Although the meetup only takes up 1,5 days, the tight schedule is full of exciting events.
First, the annual iPX conference attracts honorable guests like trendsetters and innovators whose unique thinking processes are worth sharing with the audience. Besides, having casual table conversations with them makes iPX23 even more attractive.
Because the conference locates at Chelsea Piers, there are endless entertainment options. Anything from yacht renting to bowling is available nearby the conference hall. Plus, a local worldwide famous place, the Brooklyn Bridge, looks phenomenal in person. Also, the Whitney Museum of American Art exhibits striking works like modern paintings, sculptures, and photographs.
16. Canadian Gaming Summit
Website: https://sbcevents.com/canadian-gaming-summit
Dates: 13.06.2023-15.06.2023
Country: Canada
City: Toronto
Price: CA$795 Wednesday Pass, CA$795 Thursday Pass, CA$995 Full Event Pass
Audience: iGaming + Gambling
Canadian Gaming Summit in Toronto is on the list of recommended iGaming and sports betting conventions. As expected, at least two thousand people will gather at the Metro Toronto Convention Centre. Here, the main subjects of discussion will be the development of the sports betting sector and casino gaming. Also, this three-day gathering is perfect for popularizing new businesses and gaining a good reputation.
Once people arrive at the place, they instantly feel the Toronto atmosphere. This giant multinational city satisfies those who love urban life with nightclubs and shopping centers. In case someone craves thrill, CN Tower is the tallest building, which rewards the braves with a spectacular view. Another place for an unforgettable experience is Canada's Wonderland, a famous amusement park. Its wild rides help to forget about worldly cares!
17. SIGMA America's
Website: https://sigma.world/americas/
Dates: 15.06.2023-17.06.2023
Country: Brazil
City: San Paulo
Price: €250
Audience: Mix
SIGMA America's in Brazil is another large gathering that will allow specialists to communicate efficiently. The event's organizers mention that approximately half of their guests are high-level decision-makers in various fields. Among the represented industries are affiliate marketing, eSports, lotteries, publishing, and horse racing.
Everybody who books a place is going to enjoy a classy award evening. There will be sixteen nominations to highlight the best representatives in every industry. Additionally, the award show will include a charity auction for SIGMA Foundation!
Besides the eventful conference, guests can enjoy San Paulo. Like any other place in Brazil, it is a football-crazed city. It has the Football Museum! However, even people who aren't football fans may relax in a posh area of Jardins or multiple Michelin stars restaurants.
18. iGaming Central America
Website: https://www.eventus-international.com/igaming-central-america
Dates: 22.06.2023-23.06.2023
Country: Costa Rica
City: San Jose
Price: 2-Day Affiliate Pass $395, 2-Day Delegate Pass $995, 2-Day Supplier Pass $1495
Audience: iGaming
iGaming Central America is a famous online gaming event. Its beginning is for networking and finding potential partners or clients. During the other half, visitors can participate in numerous meet-and-greets with startup founders willing to share their expertise. Also, the speakers are planning to analyze the pros and cons of Costa Rica's online gaming industry, its future, and governmental regulations.
San Jose is a bright and lively city with friendly locals who warmly greet foreigners. Many tourists dream of visiting Arenal Volcano, with its bountiful greenery and relaxing hot springs. Moreover, San Hose can boast one of the largest jade collections in the world, exhibited in the Jade Museum.
19. DigiMarCon South Atlantic
Website: https://digimarconsouthatlantic.com
Dates: 26.06.2023-27.06.2023
Country: USA
City: Charlotte, North Carolina
Price: $697 Main Conference Pass, $1197 All Access Pass, $1397 VIP Pass
Audience: Mix
DigiMarCon South Atlantic will help discover the best practices and solutions for AdTech, MobTech, Mobile, and many other industries. Conveniently, this event will have both online and offline formats, so international participants can join without traveling to North Carolina! During these two days, affiliate marketers, web strategists, project managers, and others will inspire each other and find solutions to topical issues. Their business success stories can cause a domino effect and positively affect many beginners.
If the attendees have several free hours, they can go sightseeing in Charlotte. This cozy and welcoming city boasts a famous NASCAR Hall of Fame, made for car race fans. Here is also the US National Whitewater Center made for various water activities.
20. Awin + ShareASale ThinkTank US
Website: https://www.awin.com/ca/news-and-events/events-and-webinars/thinktank-us-2023
Date: 27.06.2023
Country: USA
City: Chicago
Price: TBD
Audience: Mix
The Awin + ShareASale ThinkTank US meetup is an event awaited by many. For the last four years, organizers constantly canceled it, but this time it's back! Approximately three hundred experts, including affiliate marketers, tech specialists, and representatives of various agencies.
At the new spacious venue in Convene, the attendees will form new business connections, increase brand recognition and define company goals while finding like-minded partners. Overall, this affiliate marketing conference is a sea of opportunities for participants.
Making it to the Think Tank US means getting acquainted with Chicago. This city neighbors Lake Michigan, the largest body of water in the country. Besides admiring its infinite surface, visitors can try 360 Chicago, a glass observatory on top of a skyscraper. From there, people can see the entire city!
21. Awin Think Tank Dach 2023
Website: https://www.awin.com/de/event/thinktank
Dates: 27.06.2023-28.06.2023
Country: Germany
City: Berlin
Price: €199 Publisher and Tech Partners, €299 Advertisers and Agencies
Audience: Mix
Awin Think Tank is another annual affiliate marketing summit that is worth visiting. This year, many professional speakers will come to Berlin to communicate with audiences, spread knowledge and have fun. These presentations and multiple creative seminars will make the experience at Awin Think Tank unforgettable. Indeed, everyone can find something for themselves. After the official part, arranged meetings, and other networking events, the hosts scheduled the after-show party.
By all means, there is no place for boredom in Berlin. While tourists can admire historical landmarks during the day, the night exists for its famous underground nightclubs. All travelers agree that the Brandenburg Gate is the symbol of Berlin. Another landmark is the Reichstag, where now the Parliament works. Finally, all tourists visit the Gendarmenmarkt, the city's largest square.
22. American Sports Betting Summit
Website: https://www.eventus-international.com/aasbs
Dates: 28.06.2023-30.06.2023
Country: USA
City: San Diego
Price: $995 Delegate Pass, $1495 Supplier Pass
Audience: Betting + iGaming
American Sports Betting Summit gathers people annually to broaden their knowledge. This year, the organizers expect betting operators, government officials, lawyers, and innovators worldwide. They will discuss the state of the local sports betting market, state regulations, and innovative ideas.
The summit participants will enjoy their stay in San Diego. First, the city has an enormous Balboa park with thousands of animals and plants. Next, the hospitable area called Little Italy is super cozy and great for dining. And, in the Old Town, people can see the props of old houses and other historical elements.
23. Chile iGaming
Website: https://www.eventus-international.com/chile-igaming
Dates: 29.06.2023-30.06.2023
Country: Chile
City: Santiago
Price: $450 Local Delegate Pass, $795 International Delegate Pass
Audience: Gambling + Betting
The Latin American gaming market is a subject of interest for many people. That is why the Chile iGaming conference expects over two hundred guests and thirty speakers this year! In 2023, software developers, game equipment manufacturers, gaming industry leaders, and other prominent individuals will gather in Santiago de Chile to share their insights. Among the major discussion topics will be the current state of the iGaming market in Latin America and its future trends.
After joining roundtable talks, visitors can admire Santiago by stepping into its old streets. Luckily, all governmental and cultural buildings are on the Arms square. For instance, buildings like the Metropolitan Cathedral are examples of Colonial architecture. Plus, guides recommend the Central Market to find authentic local foods.
24. Island Conference
Website: https://island-conference.com
Dates: 29.06.2023-30.06.2023
Country: Cyprus
City: Limassol
Price: €299-€350
Audience: Mix/Adult - yes
The sunny island of Limassol has another event at the end of June. This conference is something made by affiliate marketers for affiliate marketers. Over a thousand participants will enjoy the unforgettable experience of combining beneficial networking with vacation activities. No wonder the expo center is the biggest and most luxurious in Limassol. Advertisers, media players, and publishers will have two days to communicate and chill out afterward!
There are multiple entertainment options if the guests want to spend their free time exploring the island. First, the island is famous for its vineyards and exquisite wines that locals have made since ancient times. Secondly, history lovers can visit the Archeological Museum. Finally, the Municipal Garden helps out in case of hot weather!
25. DigiMarCon Silicon Valley 2023
Website: https://digimarconsiliconvalley.com
Dates: 10.07.2023-11.07.2023
Country: USA
City: San Francisco
Price: $547 Main Pass, $897 All Access Pass, $1097 VIP Pass
Audience: Mix
This year, the big meetup in San Francisco will revolve around various subjects. AdTech, MarTech, Digital Design, and Content Marketing are just a portion of the topics that experts will mention. Organizers chose the spacious Westin San Francisco Airport Hotel to place everyone comfortably. Both newbies and regular attendees will have a chance to shake hands with speakers and talk to them face-to-face. Sure, the event is likely to have many bold and thought-provoking speeches!
Sure, San Francisco has other attractions except for the affiliate marketing conference. The Golden Gate Bridge is one of the most photographed places worldwide. And Golden Gate Park is perfect for people who crave nature in a big city.
Read the second part in Top 50 Affiliate Marketing Conferences and Events to Visit in 2023: Part 2.
Read also: Important update for Evadav's publishers: improving payout functionality