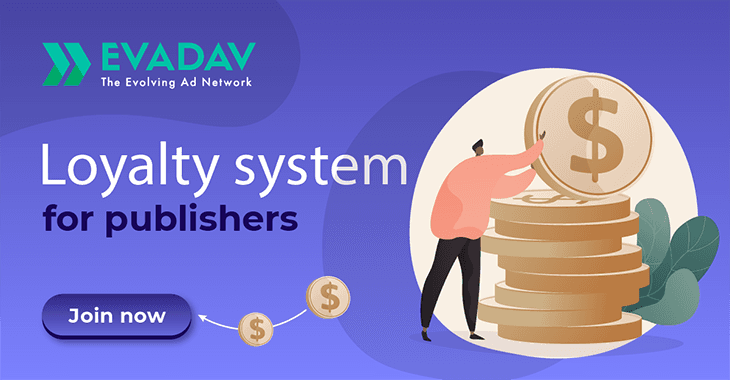 Partnership loyalty system for publishers: even more bonuses and profit
TRAFFIC AS GOOD AS GOLD
OR EVADAV LOYALTY SYSTEM FOR PUBLISHERS IN ACTION
Hello, Evadavers!
Have you ever faced a lack of tools or bonuses to make a breakthrough from "earning good" to "earning like god"?
If the answer is "yes", then this news is just for you!
We've launched a fire loyalty system for all our partners-publishers, which will help each of you to raise your profit.
More about loyalty system
We've developed a reward system for all partner-publishers of evadav.com. It includes 5 "power" levels for each partner. You can be at any of them depending on the amount of your monthly profit:
Standard – $0 to $500
Bronze – $501 to $1000
Silver – $1001 to $5000
Gold – $5001 to $10000
Platinum – $10001 and more.
The system is quite simple:
1) the more formats you use and the more traffic you pour, the more tools and benefits become available for you;
2) the more tools and benefits you have, the more you earn using them.
To check your level or improve it for to publisher account and pick the "Level" tab:

Every level has its unique bonuses and benefits, adding to previous ones for scaling and bigger profit.
Benefits and bonuses
With the level promotion, you receive additional bonuses and perks of evadav loyalty system, thus you grow and develop in terms of profit: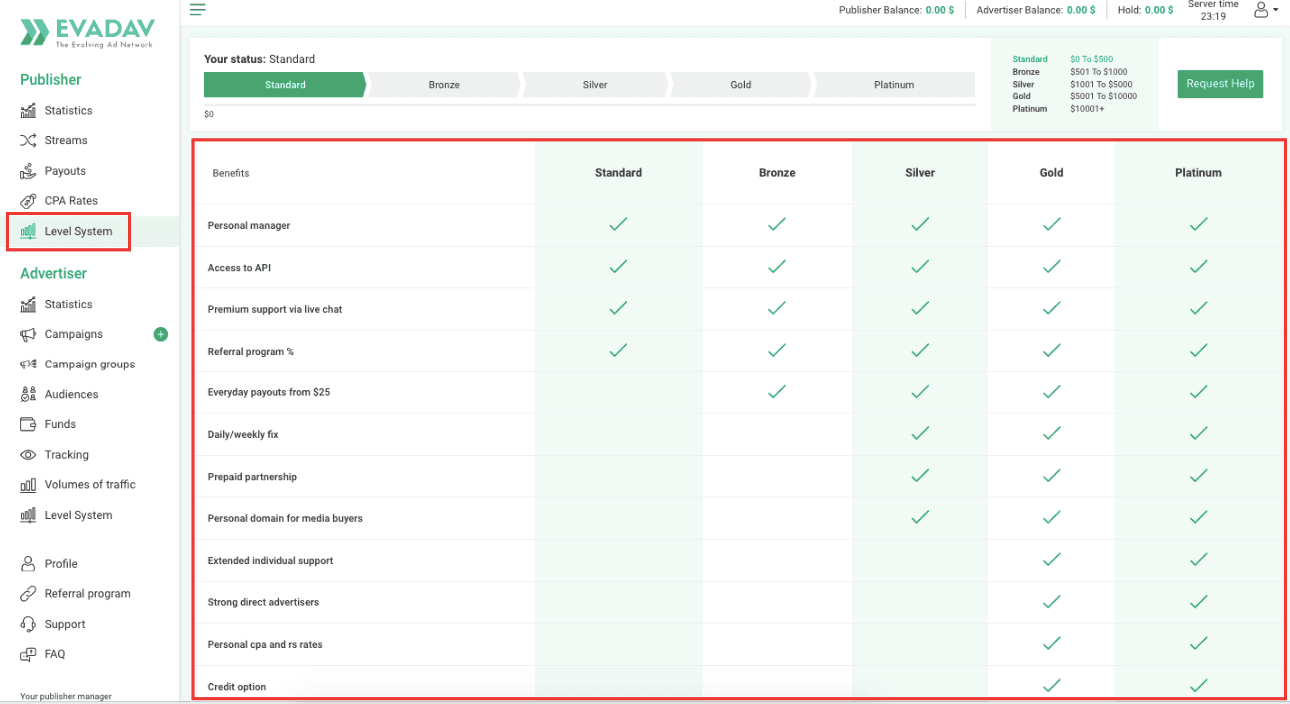 Standard - newbie:
Starting partners, who found a "gold mine", but they are at the very beginning of their way.
Benefits:
1. A personal manager: personal consultation and assistance at the very beginning of learning the platform.
2. Full access to API.
3. Premium support and live chat access: 24/7/365.
4. Referral program: bring new partners and receive a 5% bonus for each.
Bronze - growing partner:
Create and sell even more traffic, but there's still room to grow.
To the list of the above-mentioned benefits adds:
5. Daily payouts: from only $25 with the option to withdraw money with any method available in evadav.com.
Silver – the winner:
Evadav publishers, who know that traffic is on the weight of gold.
Besides above-listed benefits the following is available:
6. Daily/weekly fix: fixed CPC rate for your traffic or fixed $ amount for traffic per day/week.
7. Prepaid partnership: prepayment for an agreed period at the starting day.
8. Personal domain for media buyers: your personal domain (update once a week) for all traffic sources.
Gold and Platinum – traffic gods:
They know and can do everything, making cosmic money.
Along with the above-listed benefits:
9. Expanded personalized support: when you got all the answers fast and in detail. Your personal manager is available every time and day.
10. Strong direct advertisers: deal with top advertisers who take your traffic with the highest bids.
11. Personal CPA and RS rates: exclusive and cosmic rates from partners.
12. Credit option: the opportunity to receive finansation for turnover in advance, for traffic purchase to scale current and adding new sources for all arbitrage partners
Each of you is system participant
You don't need to do anything to join the system. If you're with Evadav, you're already in: the benefits will become available for you automatically when your traffic and source profit reaches one of 5 levels.
Tips and life hacks:
Several simple, but effective tips on how to get all benefits of a loyalty program for publishers:
Create and add new traffic sources.
Remember, the more formats you use and traffic you pour, the more you get as a result. Your traffic is in weight of gold - we know it for sure.
Contact your manager who will tell you about all bonuses of your current level and help you to reach the next one.
Enjoy your cosmic profit, cause you're the traffic god, for sure!
Add and create new traffic sources, level up and get wow-profit with Evadav